Status: EXPLORING
Current Status: Exploring
Project Stage(s): Concept
Live Trial Location(s): Pending > Live > Removed
(What are the Project Stages?)
(Why are trials removed?)
CHALLENGE:
People don't think in terms of 'services', they instead think of the "job to be done" or the material that they want to dispose of. Eg they don't think about "bring centres" (or necessarily know the 'correct' term that they need to search for), they just want to "get rid of these old clothes".
We currently provide people with long lists with descriptions (eg "near the junction of..." or "at the back of...") which can be difficult to follow and find the service that you need. In addition, this is often in PDF format that isn't machine readable, and so Google isn't able to help them much either. (For the vast majority of people, Google's search box will be their entry point to finding out about Dublin City Council's services, not our own www.dublincity.ie website.)
Finally, our research has found that local shops are a key information source for bag customers. For example, we've overheard multiple conversations in these shops where a person was trying to find out what they should be doing or buying (eg waste bags) from the shopkeeper. We'd like to give both them, and the shops, a very simple information resource that helps them to understand their options much more simply.
PROPOSITION:
We would like to create a tool around "jobs to be done". This will also provide an impetus for us to change the format in which we're providing information - and to put it into machine-readable formats.
DESCRIPTION:
We are creating a prototype tool to help people to learn about their waste options. The idea is that someone just enters their address, and it will tell them everything that they need to know in a very simple way.
We think that it will also be pretty simple to provide it in various languages also to better cater for the various native languages used in Dublin.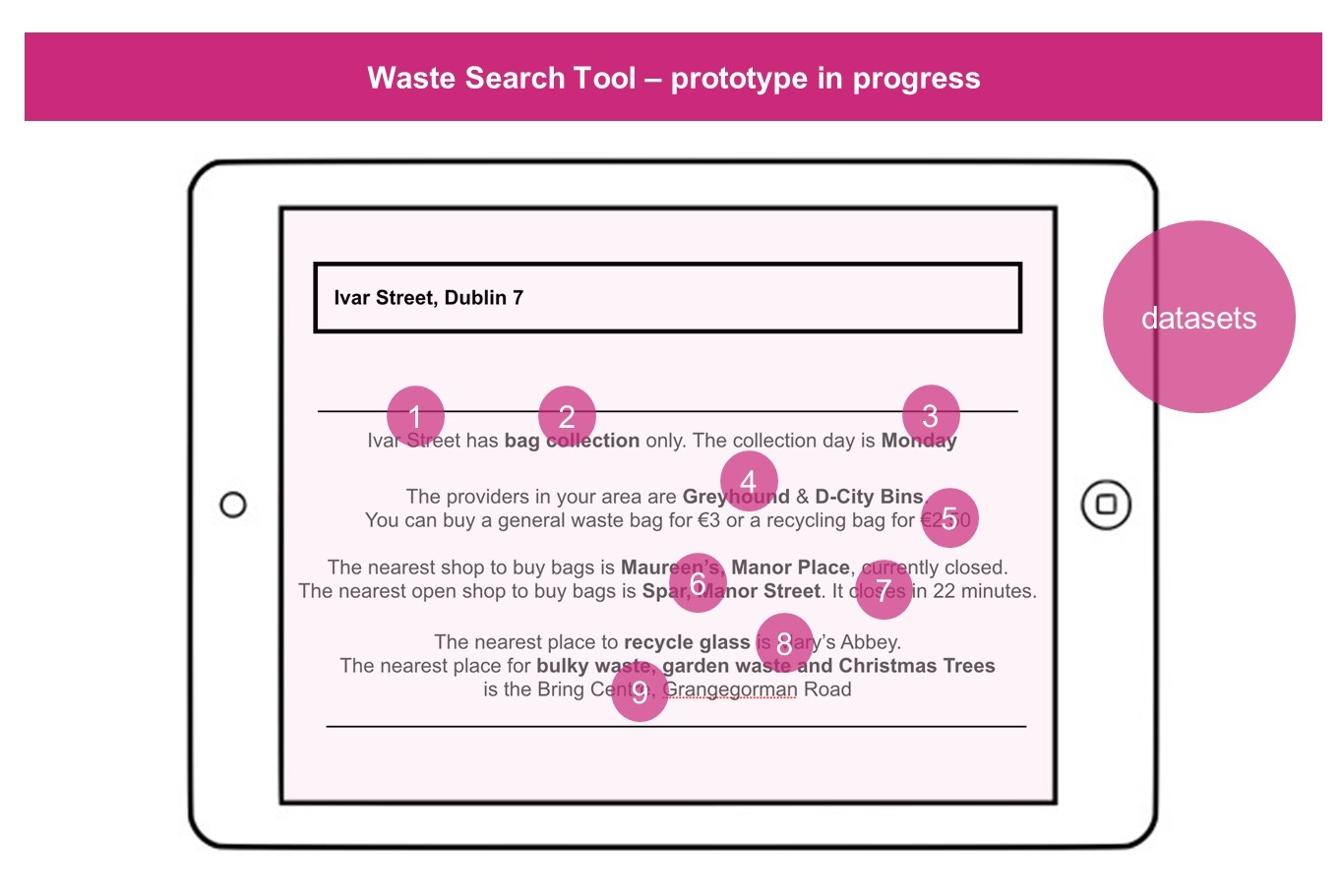 (You can click to enlargen.)
We will update this post once this prototype is ready.
OUTCOMES:
[Trial not yet complete.]
DECISION:
[Trial not yet complete.]
NEXT STEPS:
[Trial not yet complete.]
RELATED PROJECTS:
WHAT DO YOU THINK?
Get involved in the conversation below.