Status: EXPLORING
Current Status: Exploring
Project Stage(s): Concept
Live Trial Location(s): Pending > Live > Removed
(What are the Project Stages?)
(Why are trials removed?)
CHALLENGE:
This project has arisen from the current City Challenge on Dumping and Waste.
Our waste services can sometimes feel less than suitable for modern, urban, society. They can feel like they were designed for an able-bodied household, with a stay-at-home parent, living in a suburban house and owning a car whereas city-centre living in Dublin can be very different.
The fact that we have a different waste collection type for much of the city centre is an existing acknowledgment that they already warrant different consideration, and they're also the areas which are experiencing the greatest problems with the waste service.
The dark blue boundary is Dublin City Council's entire administrative area.
The light blue boundary is the area that's considered the 'city centre' and is often referred to as "the area inside the canals".
The red boundary is the 'Central Commercial District'
The red dots below represent bag collection streets (with about half of them inside the above Central Commercial District).
What types of things should we be thinking about if we were to focus on the city centre and through the lens of modern living?
1. Comprehensibility and discoverability of the waste service
The current system can be difficult to readily understand (for example, for a new resident to the city), and many of our services aren't readily discoverable (for example, many are unaware of the City Council's bulky waste collection service). How could we improve both of these aspects?
2. Storage
How should we design the service for households with very small amounts of storage space?
It can be difficult for users to manage large variability in waste volumes. For example, a weekly amount of food-related compost produced by a household will be usually pretty predictable in volume, whereas if they were to do a spring-clean of their garden they may suddenly have a very large amount of compostable waste that they need to dispose of. How could we better manage that?
Asking people to correctly dispose of the infrequent-but-toxic types of waste such as batteries and lightbulbs is indirectly a request for them to store them at home somewhere until they have sufficient numbers to warrant a special trip to dispose of them correctly - again relying on private storage space - which in smaller living conditions is in limited supply.
Our current system also relies on the landlords of multi-let units to provide sufficent and useful waste storage for their tenants. It can be a difficult issue to police, so is there a better way of solving the issue?
3. Timing
As a bag waste customer, it can be difficult to remember which waste collection is due for that particular week as they don't tend to have any relationship with their waste provider. They usually just buy whatever bags are sold in the nearest shop where the specialist waste bags are sold, and as a result they don't receive a collection calendar or SMS reminders of collection days such as bin customers often do. (Many users note that they "look out the door" to check what their neighbours have done.) Also the collection information provided on the websites of several of the private waste providers was out of date, misleading or missing entirely.
Our waste bye-laws state the times during which waste can be presented, and must be removed. This is for 41 hours of a 168 hour week - or to put it another way, a street could have private waste on it for 24% of the week. In the city centre, pavement space is at a premium for both getting about, and also is often one of the few spaces remaining for children.
In the Central Commercial District, we require households not to present their waste before 5pm on the day of collection. However, many of the collections actually take place before this time, and for others that might be an impossible task if they only get home from work at 7pm but their collection is at 6pm for example.
We currently don't have an easy solution for unusal periods such as when people are going on holidays - what should you do if you're going on a 2-week holiday and leaving 3 days before waste-collection day? (Particularly as bag-collection area general waste will contain compostables, as they don't receive a brown waste collection service.)
4. Mobility and ability
As a City Council, we are trying to promote sustainable mobility, and yet many of our current waste services rely on driving (and therefore tangentially also car ownership). How many waste services are within reach by a short walk or cycle, and how would that impact on how frequently they'd need to visit?
In relation to walking, how does our current waste practice of bags and bins on pavements impact on how easy it is to walk or use a wheelchair or pram around the city? Our pavements are often very narrow as is it, and storage of waste on them reduces them further. How could we improve that situation?
Also, the way to get best value from your waste bag is to fully fill it, but as a result this will often mean that it will become very heavy to lift - particularly as it's also filled with compostables (as bag collection areas are not served by a brown bin service). This can pose difficulties for the less able-bodied such as the elderly or disabled, so how should we think about lifting and carrying?
5. Better waste disposal
It has been a legal requirement for all households to be provided with a compost waste service since July 2016. However due to the difficulties of providing a bag service for compostables, none has yet been introduced for bag-collection areas. How can we solve that?
How could we make it easier for people to dispose of irregular types of waste, particuarly when smaller in size - such as batteries and lightbulbs?
6. Financial
Compost collections tend to be either free or greatly reduced in price in comparison to general waste collections. Would the provision of a compostable service reduce the waste-related costs of bag-collection households?
As discussed above, presenting a half-full waste bag (due to personal physical limitations) also has financial implications for service users. Would solving this help save some money for certain households?
Other free services such as bottle and clothes banks may only be accessible to many if they've access to a car. Would solving that further reduce costs for many?
We didn't find evidence of bag customers shopping around for the best value waste service, perhaps as a result of a combination of many areas only being served by single providers, it being difficult to compare costs across different bag sizes, and as their relationship tends to be with their local corner shop (large supermarkets don't sell them) rather than the private waste provider. How could we address this?
7. Visual
Bags of waste on the streets of our city looks ugly and untidy - is there a better solution?
It can often to easily discern the difference between a dumped and not-dumped bag, and so it can often feel like the city is full of dumping - even when it's not the case.
Bags in particular, but also wheelie bins, increase the amount of litter on a street as a result of animals looking for food and bad weather blowing waste down a street.
8. Weather
The value of recyclables is reliant on the quality, which includes that it's kept dry. Storing bags externally for long periods may work against that. (Storage solutions which keep bags dry and out of sight often will require more space than leaving out in the open - something that's a premium in the city centre.)
9. Animals
How could we alter our waste services to prevent animals such as seagulls, foxes, cats and dogs from attacking waste bags (in both back yards and when presented on the street), and creating a litter nuisance or resulting in torn bags? (It's also worth noting that a waste bag can become uncollectable if the damage to the bag is sufficiently severe. As bag-waste customers buy the bag, not the actual collection, this also has a financial implication for them.)
10. Future-proofing
The impact of climate change will create a warmer, wetter, windier Dublin - and we have already begun to see the start of this change. What are the impacts on compostable waste in a warmer city? Knowing that we will have heavier rainfall events, how would we design our waste service? As Dublin gets windier, what will be the impact on waste receptacles such as wheelie bins (lids lifting) and waste bags (including very lightweight bags of recycling)?
Studies indicate that the world has reached "peak car" (ie from this point, we can expect to see fewer people to both own and drive cars). So how should our waste services be redesigned to move them away from a reliance on motor vehicles, and to future-proof our services?
As waste practices change over time - such as countries refusing to continue to import our waste, materials becoming newly-recyable or leaving the waste stream, or a move towards a circular economy - how might we create flexible solutions which enable us to more easily and rapidly adjust?
PROPOSITION:
As part of the callout for solutions to the issue of dumping and improving waste services, the idea of shared domestic waste bins located on the public street - as is the common practice in many other European cities - was by far the most-regularly requested solution from the public.
They likely provide a simple solution to all 10 of the issues listed above and offer the potential of:
A much simpler waste service.
A cleaner visual environment
A potential solution to encourage and support better waste practices
A potential solution for compost
Freeing up pavements
Immune to animals
They move the problem of storage from the private realm (backyards) to the public realm (public bins).
They allow us to neatly sidestep the issue of non-compliant landlords, and air b-n-b issues.
They may facilitate a better way of collecting specialist waste forms.
As a hyper-local service, they remove the reliance on car-usage.
They enable small amounts of waste to be removed on a regular basis if desired, thereby greatly reducing the weight issue.
They may be able to help with discoverability of services (for example as 'everyone' will go to their local one, it might be a good place to tell them about their other waste options).
They neatly sidestep the issue of timing as anyone can put out waste at any time.
freeing up small yards and gardens for other much-needed uses (which has a positive impact on the liveability of our city centre)
improve the walking (and playing) experience of our city's footpaths.
positive visual impact (for example, a reduction in strewn waste, and also the waste is stored out of sight), but this will a key aspect that we'd be hoping to measure and discuss with citizens.
Unbundling the waste service
To begin the conversation, we would like to 'unbundle' the waste service into these 3 components - as we feel this will greatly help us to discuss this topic in a more useful way.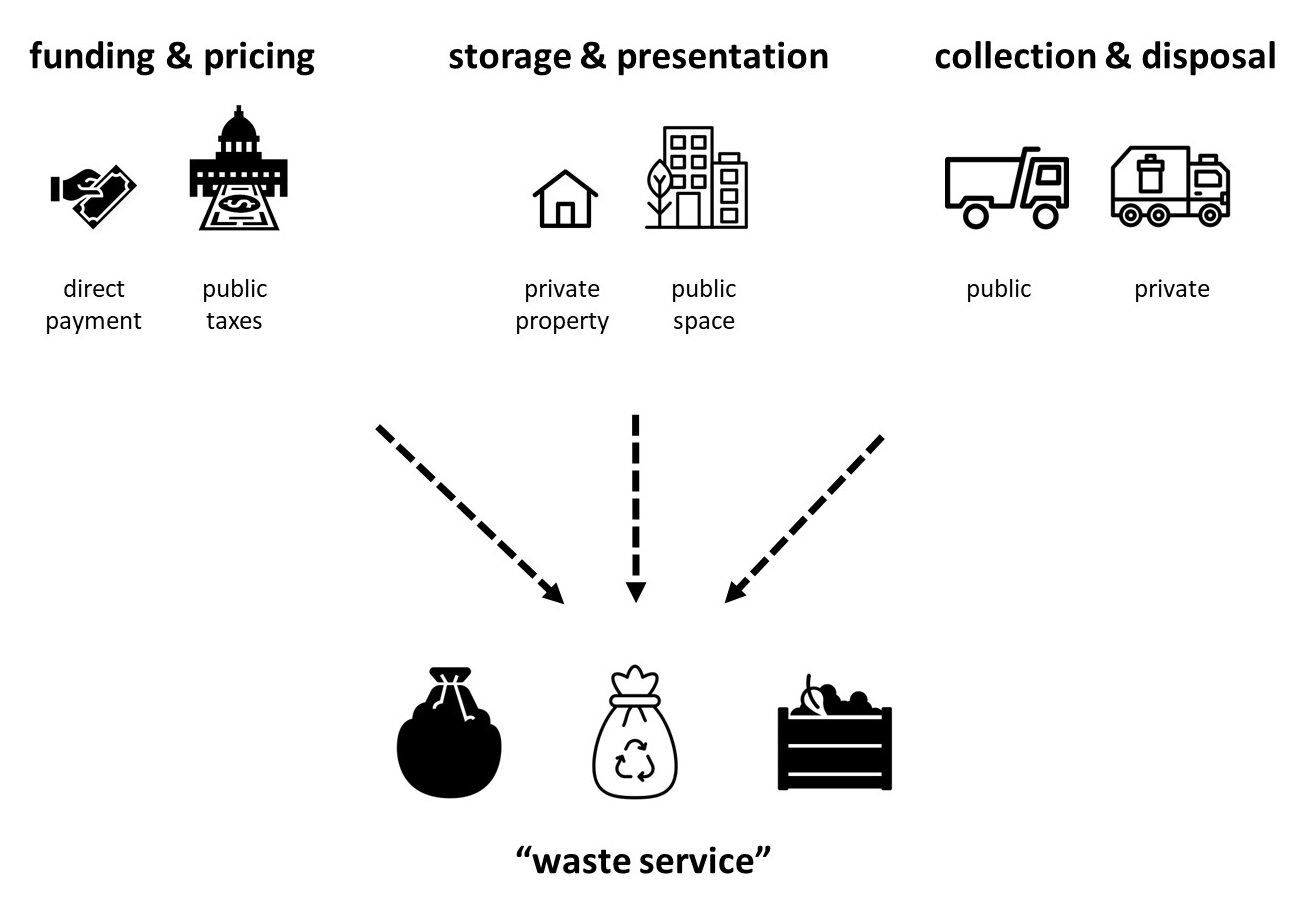 These 3 components can be combined in different ways to form a matrix of potentital means of providing a waste service. Sometimes they interlink, but in many cases they can be considered separately - taking two examples, waste can be collected publicly but paid for directly via invoicing (eg the model used by DCC for several years), or waste can be collected privately but paid for via public taxes (eg the model used in many continental European cities).
Therefore, for now, we'd like to solely focus and discuss the single aspect of 'storage and presentation' of domestic waste. We'd like to begin to trial and discuss the below storage and presentation model - with interim waste storage on the public street, rather than in private yards and gardens.
Moving from private storage to public storage of waste
Our current model, as per the diagram below, is one of interim storage (ie the period between collections) in private gardens or yards, with this waste then being presented for collection by using public footpaths once a week or fortnight. From the perspective of Dublin's city centre (the focus of this piece), this means that we're asking space-restricted households to use precious outdoor space, and that we're also using the busiest footpaths in the city to store waste often for quite long periods.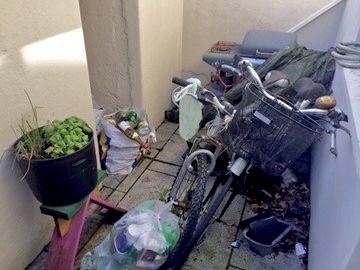 (Image: a tiny city centre back yard storing bicycles, barbecue, herbs and household waste. BikeBunkers - another Dublin City Council initiative - is looking to address the bicycle storage issue.)
To begin with we'd explore an above-ground storage solution with some sort of bank of bins above the ground. (It's much easier to trial, and will also yield useful learnings in itself.)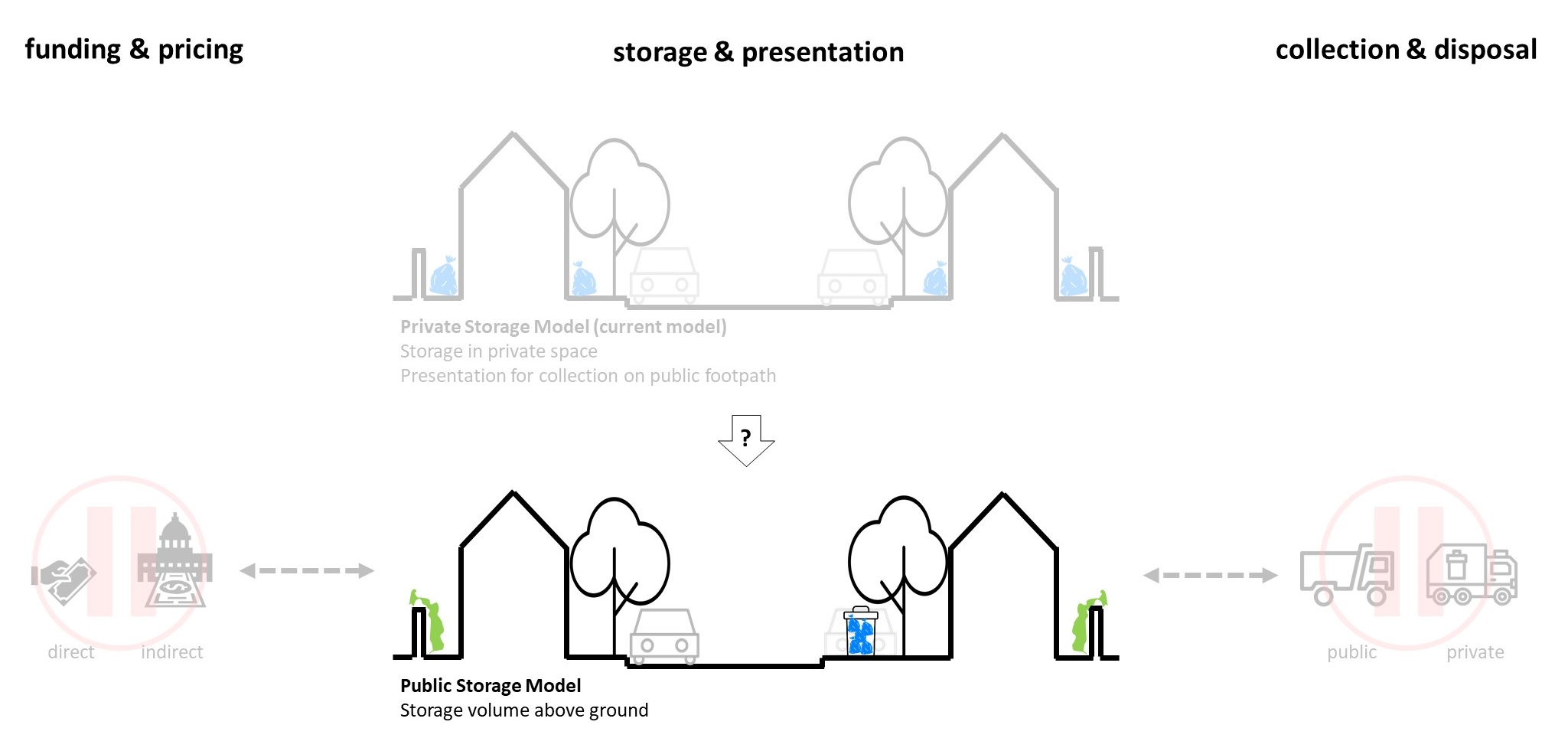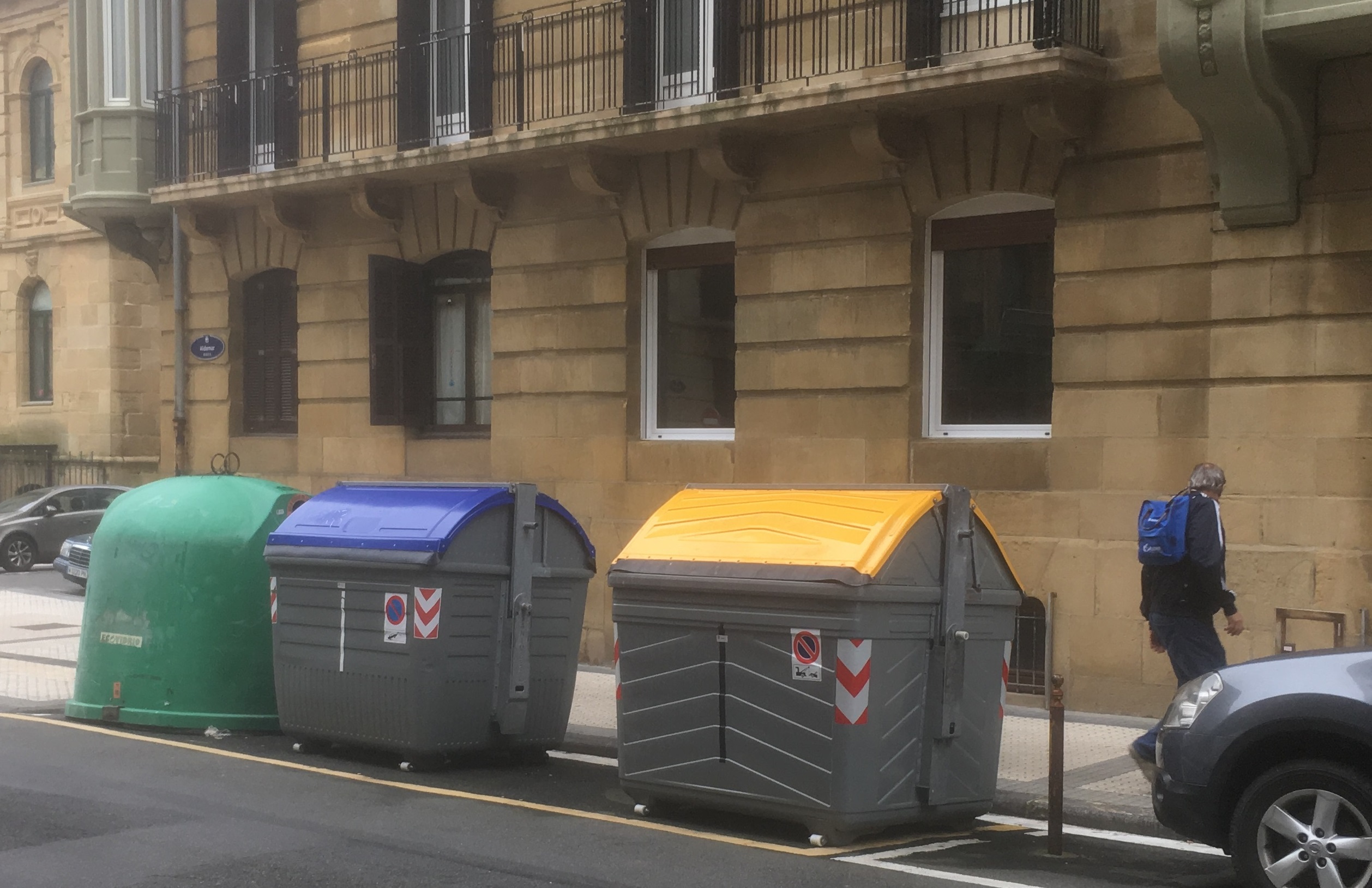 (Image: above-ground bins in San Sebastian in Spain.)
Depending on how the trials proceed, a later aspect to explore would be whether we could store the same waste below ground instead.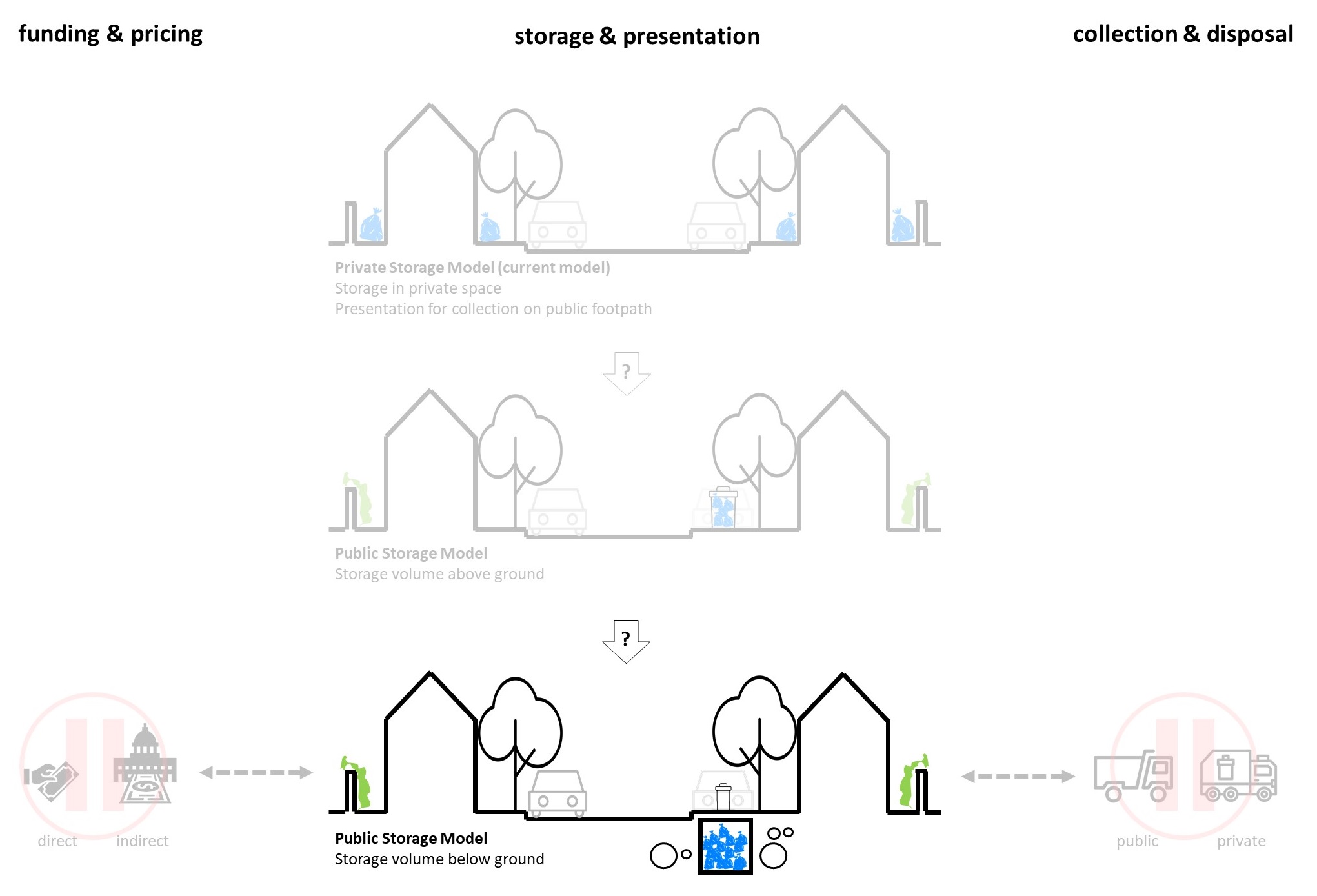 This would presumably benefit from having a smaller footprint above the ground, but there may be problematic issues such as existing utilities located below ground (pipes, optic fibres, power cables, etc), or there may be other issues such as flooding.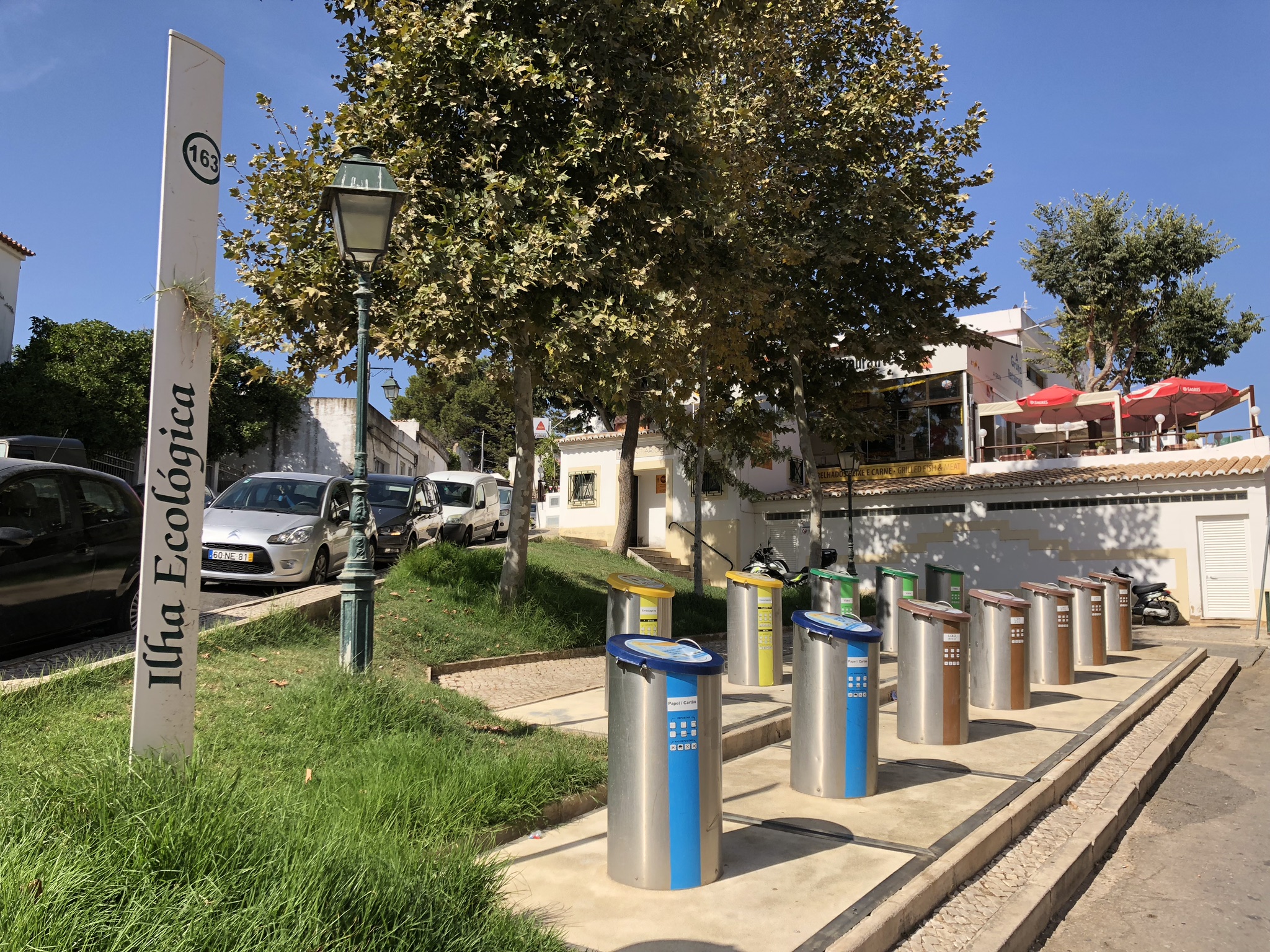 (Image: below-ground bins in Portimao in Portugal.)
Or it could be that we'd use above-ground in some situations, and below-ground in others (and so it will have been useful to have explored both versions).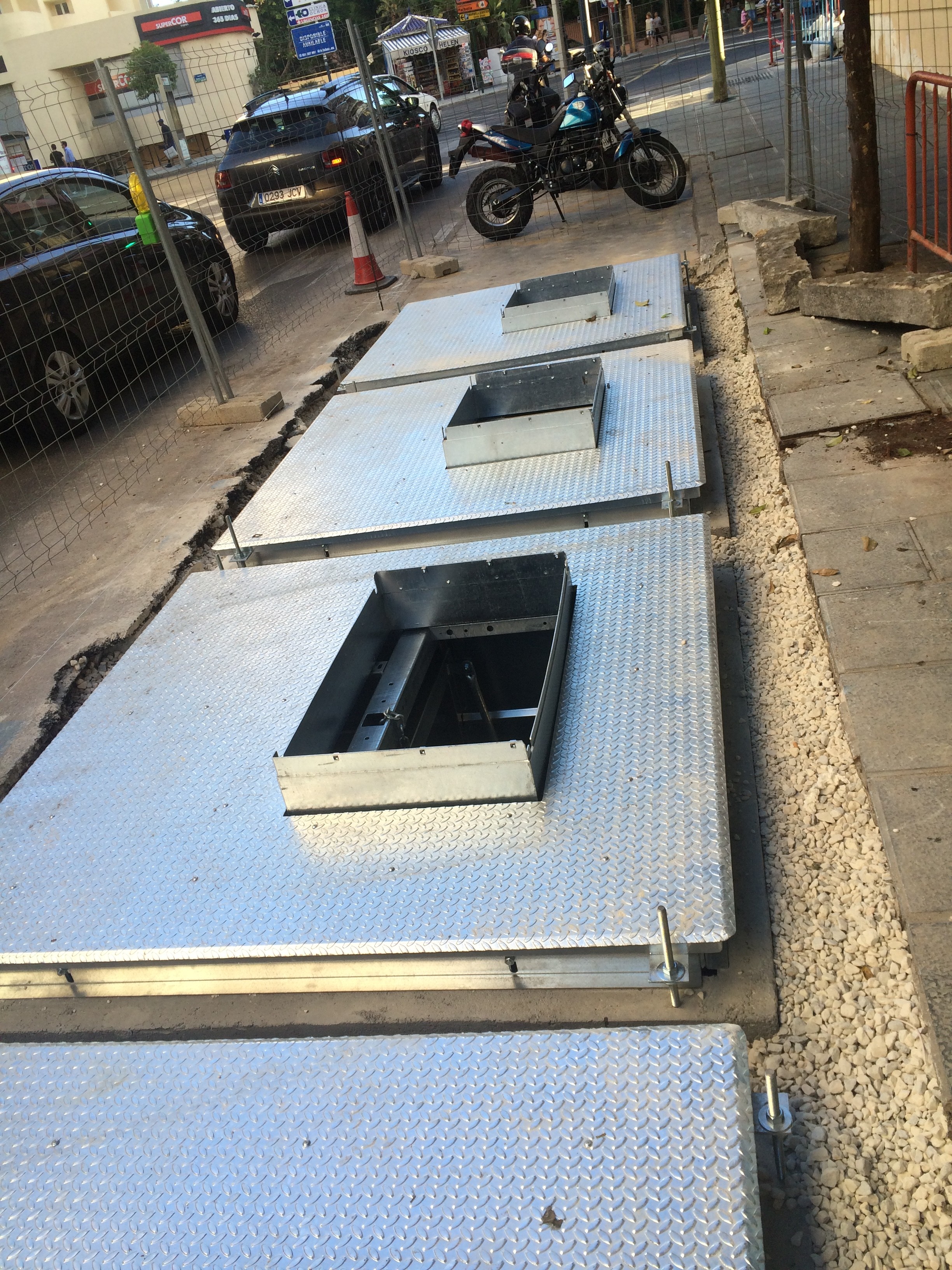 (Image: Subterranean bins being constructed in Spain.)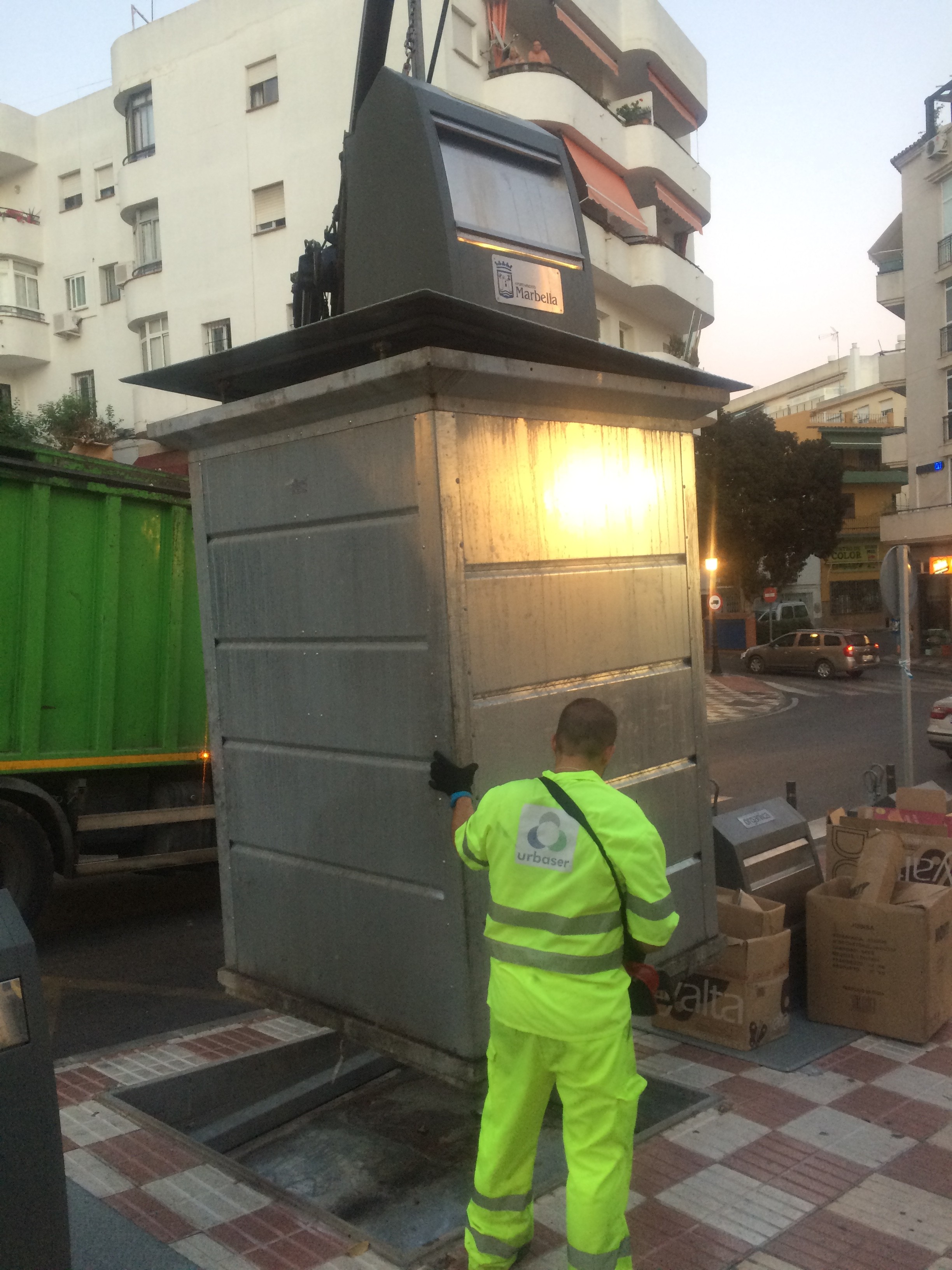 (Image: this photo of a bin being emptied in Spain gives you a sense of how large the above-ground and below-ground elements are relative to one another, and also the depth that they can go, which requires an extensive amount of works. They also require specialist equipment which the current collection vehicles in Dublin, both private and public, aren't equipped with.)
As noted above, the payment and collection aspects should follow as a separate conversation later. For example the below shared street bin could be paid for directly - eg using RFID swipe cards as used in the Netherlands, or indirectly via public taxes, or that they could also be empied by a private company(ies) or by the local authority, but from the residents perspective that's probably a mostly invisible aspect. Equally there's no point in having discussions about whether the current waste collection fleet is kitted out to empty such receptacles before we know whether we even want this solution at all.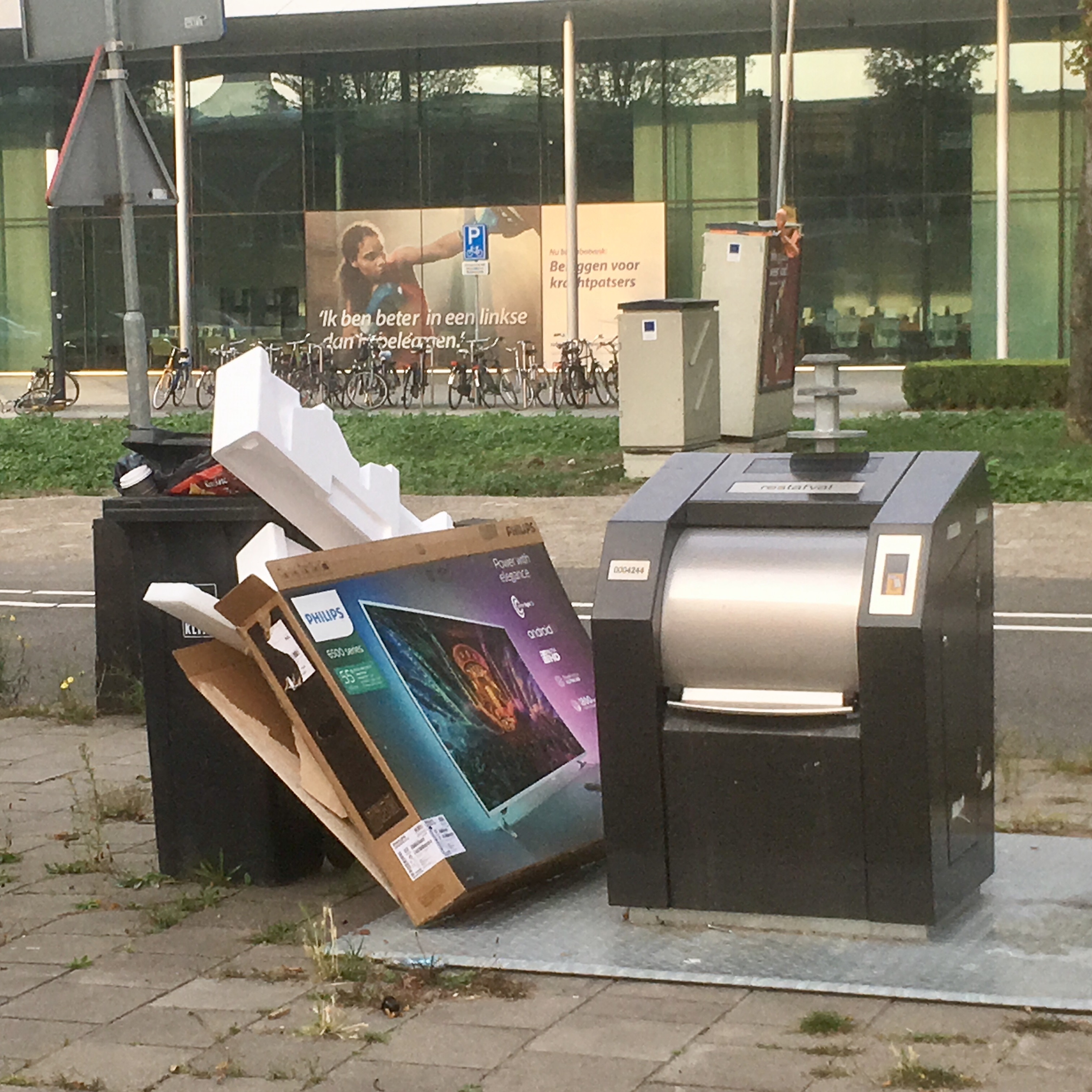 ​(Image: a shared bin in Utrecht, Netherlands, with an RFID card reader (on the right). Residents need to swipe with their card before they can deposit a bag. They get a certain amount of free deposits per month, and above that are required to pay per deposit.)
DESCRIPTION:
How might we begin to trial this idea?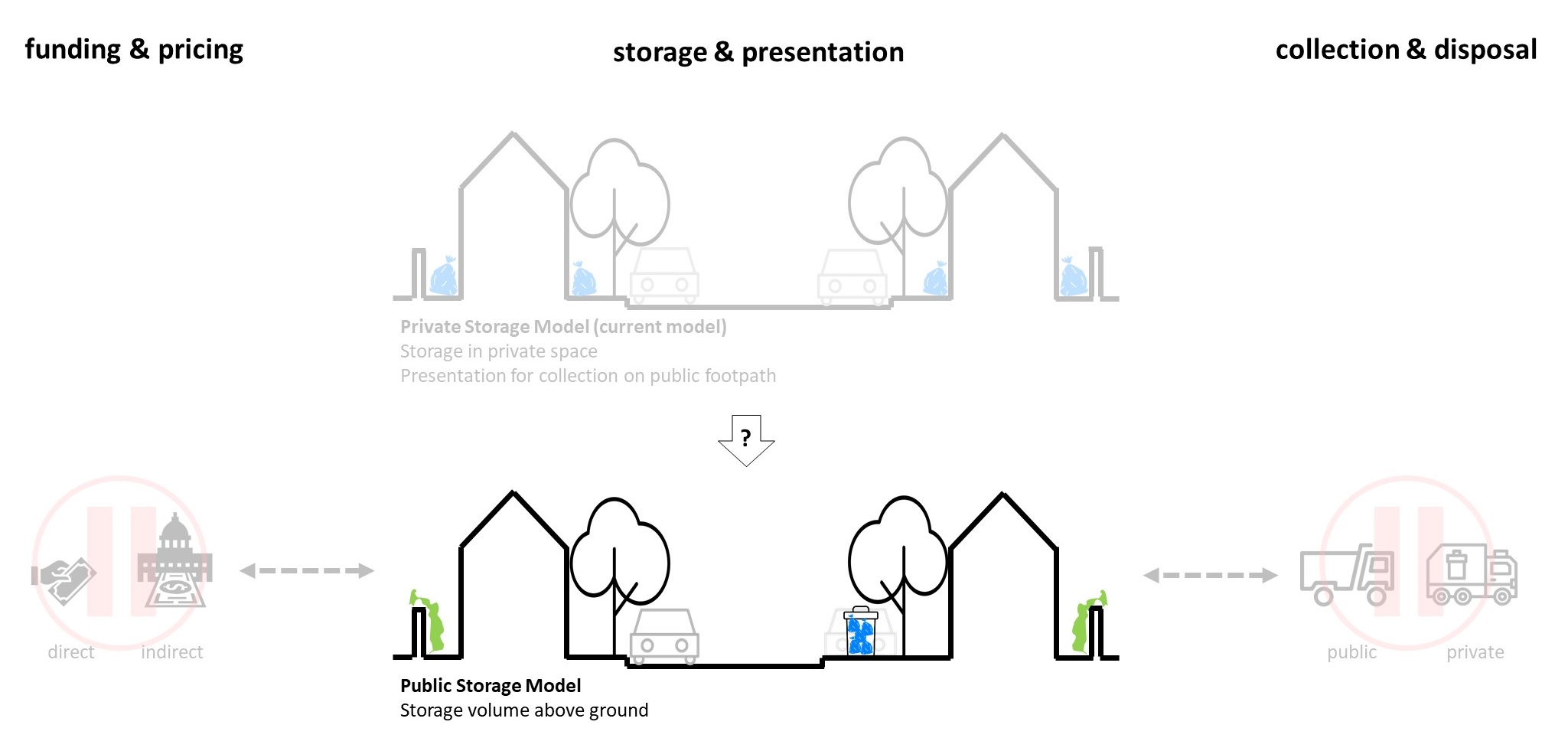 We will place a cluster of bins on a street to simulate the idea of public shared bins.
We would locate them:
off footpaths, most likely in public space that's currently used for car parking.
away from windows and doors if possible
under a street light when possible
where they're passively overlooked
Initially will aim to explore the following waste streams:
general waste
recycling
compost
Very much depending on the feedback from the local residents after trialling the above waste streams, we could later agree to also explore the following additional ones with them:
glass
textiles
batteries
bulky waste
electrical
We want to learn about:
parking
distance from homes - in terms of convenience (distance needed to carry waste)
Noise, smells, visual impact (of the bins themselves and litter)
anti-social behaviour
installation issues (including issues about locating below ground if we advance to that stage)
waste streams (what will work at hyper-local level)
how best to group or spread different types of waste streams
any affect on improving or reducing best practice in waste disposal rates
Frequency - regular versus irregular/specialist. Rule that a child could do (without having to cross a busy road) as an errand on their own. Eg that might be something like max 100m for a regular waste bin bank, and 300m for an irregular/specialist waste bin bank.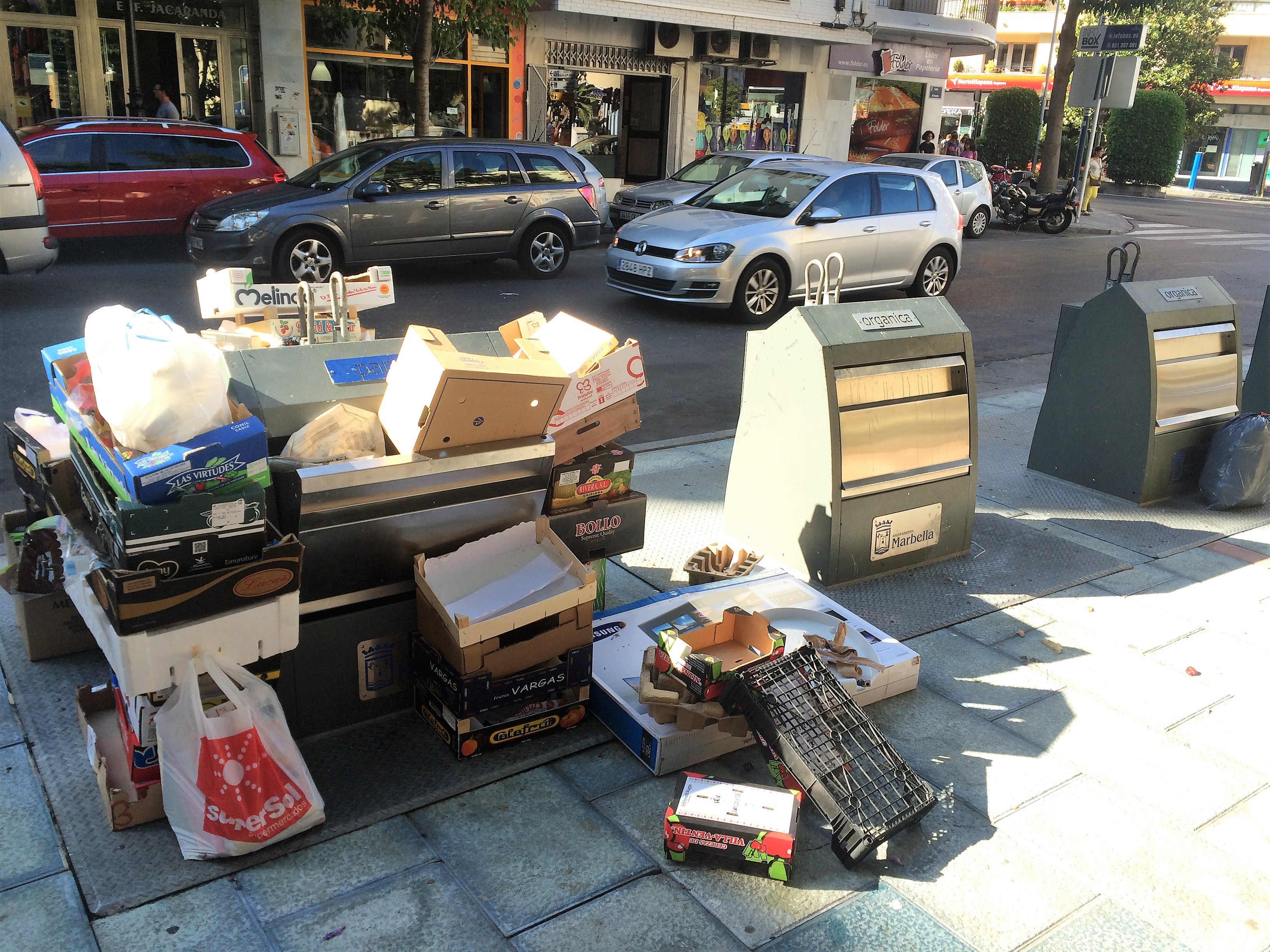 (Image: capacity issues at a bin in Marbella, Spain.)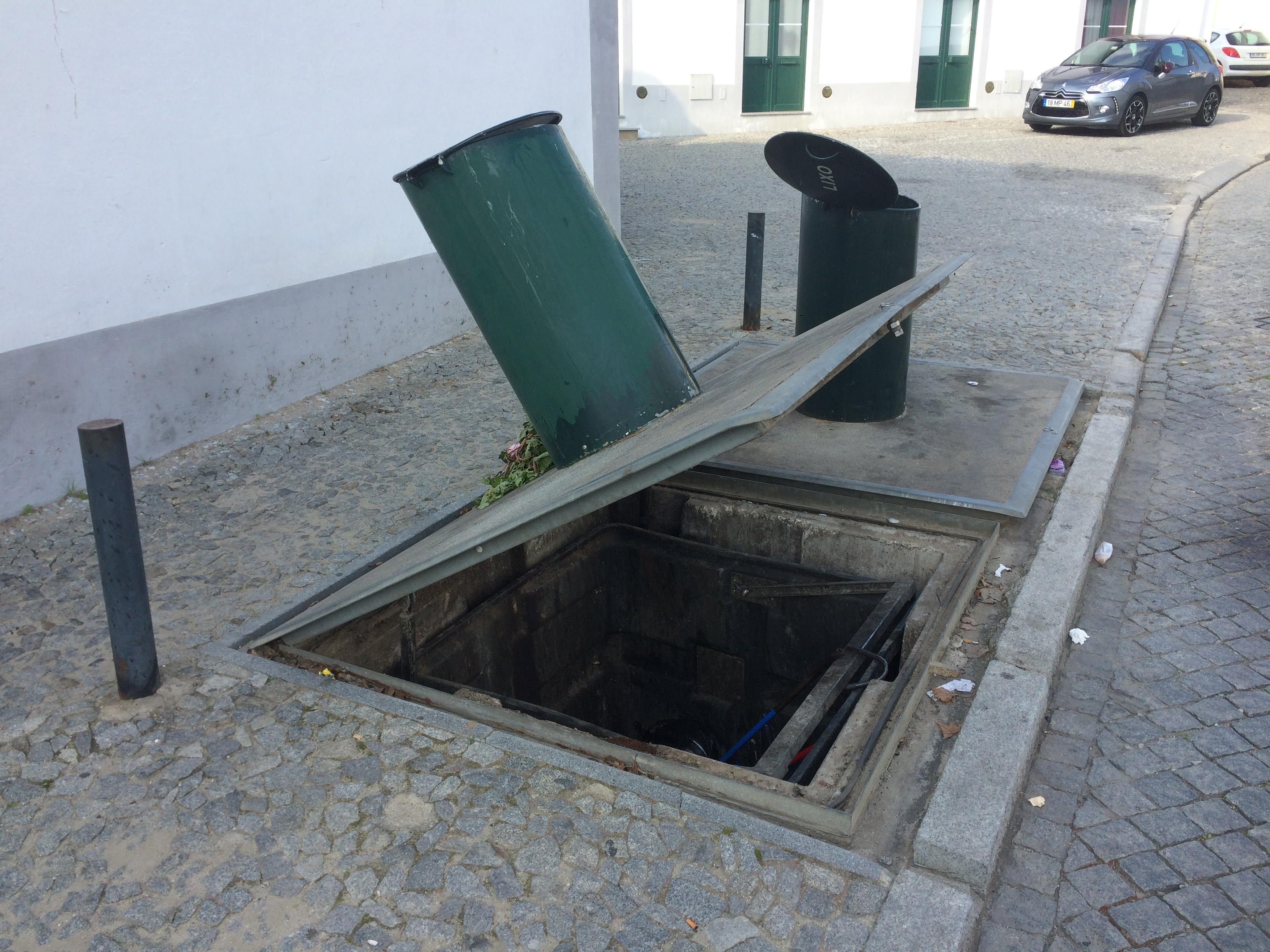 (Image: a subterranean bin in Evora, Portugal, which is broken and posing a risk.)
TAKING PART:
Read below description as to what we are thinking of doing. Please note that this project is at concept stage - therefore it will be trialled (perhaps several trials), but will be ultimately removed.
We're looking for a street with the following charactertistics:
Located in one of the two trial areas as above.
Manageable number of households on the street (eg 10-50 houses)
A mix of housing types (eg house, apartments, bedsits) would be nice, but isn't required.
A mostly, or entirely, residential street. (We don't expect to begin with it, but if there was a small amount of commercial close nearby, it might let us later explore other ideas.)
Some issues with some of the residents putting out their waste on the wrong days, and also some issue with dumping.
Some space for locating the shared street bins (eg perhaps there tends to be some spare car parking spaces on your street, perhaps you've a blank wall or gable-end on your street).
Create your own user feedback survey
OUTCOMES:
[Trial not yet complete.]
DECISION:
[Trial not yet complete.]
NEXT STEPS:
[Trial not yet complete.]
RELATED PROJECTS:
WHAT DO YOU THINK?
Get involved in the conversation below.