WORK IN PROGRESS:
As a Brainstorm entry, we'll be updating this idea and editing this entry as it begins to take on a clearer form...
CHALLENGE:
1. Many of the Beta Project suggestions that come into Dublin City Council BETA are about local-specific challenges or opportunities (for example, "could you do XYZ on ABC Street..."). These are important, but from a BETA point of view, these would often would take the same amount of resources (time and energy) to explore a single local issue, as it would to explore a citywide concept or policy that ulitimately could improve the entire city...and so it made sense to prioritise the latter.
2. The aim of DCC BETA is ultimately the rollout and implementation of good ideas across the city. Rather than the City Council 'pushing' an idea into neighbourhoods, could there be a better way of letting neighbourhoods 'pull in' whatever solutions that they want? Would such a method help neighbourhoods better reflect the personality that they each have and also give the City Council a better way to support the rollout of new solutions?
PROPOSITION:
Could neighbourhoods decide on a vision for their neighbourhood? Could they then imagine, test and implement their way towards that vision using many of the methods that Dublin City Council BETA has developed to date?
We're thinking of this as a BETA platform for neighbourhoods - for example, 'Smithfield BETA' or 'Inchicore BETA'.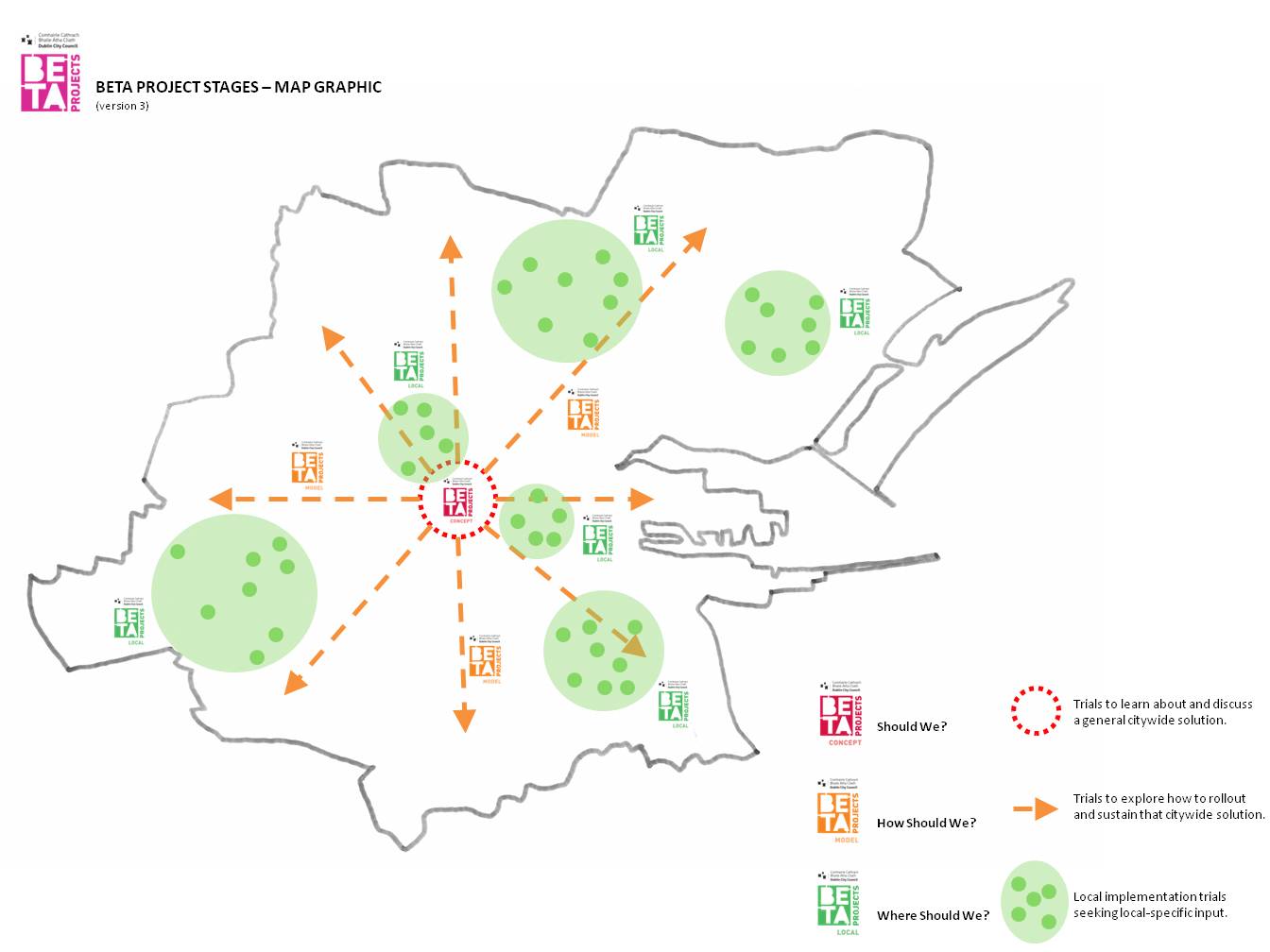 DESCRIPTION:
The idea will be to work with one neighbourhood and to learn about how/whether something like this works, and to ultimately find a process that other neighbourhoods could also use. In order to help the concept both scale but also be resilient and sustainable in the long-term, a hugely important aspect of this will be to find methods that are really good but also keep the amount of resources and time (of Dublin City Council staff and locals) required to a minimum.
This project is a communications project in many ways...how might a neighbourhood decide on a vision, how can they decide what to trial, how could they vote on changes, and so forth. We be interested in hearing your suggestions for similar projects that we could learn from! For example, many of the aspects of the previous Designing Dublin project might be useful - including street conversations (see the photos in the carousel above).
SUGGEST A NEIGHBOURHOOD?
When we're ready to begin to explore this as, we'll be looking for a location with the following characteristics:
Good for Learning
Closer the better to Dublin City Council's Civic Offices or a Dublin City Council Area Office (so that staff can more easily watch how the trial is working).
The neighbourhood should be a 'goldilocks area' - not 'too hot' and not 'too cold'. For example not an area which is all commercial or all residential, not all houses or apartments, not all private or social housing, not too wealthy, not too much traffic...and so forth.
Ideally it would have a little bit of everything - some residential, commercial, institutions, public bodies, etc.
Ideally there'd be a nice mix of people - for example ages (children, teens, adults, elderly), nationalities, languages, and skillsets (for example not an area where everyone is highly trained in digital or online tools).
Ideally the neighbourhood wouldn't have too many problems or too perfect - however ideally it would have both challenges and assets to tap into (for example a lack of green space or greenery might be a challenge, and a park, library, school, river, community centre, trees, cafe, pub, sports facilities, public transport, might be local assets that could be tapped into).
Clear Area and Boundary
The area that you have in mind has a clear boundary - eg perhaps it is surrounded by main roads, river, canal, park or whatever. It should be simple enough to point at a particular area on a map for example, and to draw a boundary.
Ideally the neighbourhood would 'naturally' be made up of a few smaller areas...so that we could start with just one small area, later add a second, later a third, etc in order to be able to easily scale and learn more, all whilst staying within the same neighbourhood.
The wider neighbourhood should have a clear name that everyone knows it by. (At a later date, it would be useful to explore an area/neighbourhood that people recognise under different names.)
Starting More Easily
The area has already established local networks of people and communication lines - for example there's a local residents committee, Tidy Towns, clean up groups, street Whatsapp groups, etc, are already in place and are active.
An interested community - the more of your neighbours that are interested, the better.
Ideally some sort of meeting space (visible and accessible from a public street) in the area would be useful.
(The above images are copyright of Street Feast / Allen Kiely, Designing Dublin, and Dublin City Council.)
RELATED PROJECTS:
WHAT DO YOU THINK?
Get involved in the conversation below.